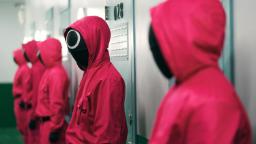 Netflix has — once again — changed the game.
When the company began to expand internationally, it exported Hollywood-made films and TV shows to other countries. Now, about a decade later, as it sits operating in more than 190 countries, the streamer is leveraging its global reach to do the opposite. And it is doing so with tremendous success.
Netflix
(NFLX)
announced Tuesday evening that the Korea-made "Squid Game" had become its "biggest-ever series at launch." As CNN's Frank Pallotta
reported
, the company said the dystopian series had been viewed by more than 111 million accounts since it debuted on Sept. 17. For comparison, "Bridgerton," which previously had the top spot, was viewed by 82 million accounts in its first 28 days.
The series is the first ever from Korea to reach No. 1 status in the US. But it's important to recognize that the show is a phenomenon across the entire globe, from Asia to Europe to South America. As Pallotta pointed out in
his story
, "Squid Game" is at the top of Netflix's top 10 lists in 94 countries…
"Perfect evidence that our international strategy has been right"
That global strategy is about producing local shows that are genuine and true to the regions in which they are developed. As Kim explained, the company believes "the most locally authentic shows will travel best." A project like "Squid Game" — which has been generating tons of press attention for the past two weeks — breaks down the barriers that previously existed between media markets…
It's not just "Squid Game"
"I think what happens is people say, 'Hey, I don't watch foreign language television, but I've heard of this show called Lupin and I'm super excited to see it. And it's included in my subscription; I'll push play.' And 10 minutes later, all of a sudden, they like foreign language television. So it's a really incredible evolution," Sarandos added. "Bong Joon-ho said it so beautifully at the Oscars, that audiences have to get over the 1-inch wall to enjoy a whole another world of entertainment. And we're seeing that at incredible scale already by watching — by having great stories from anywhere in the world to everywhere in the world on Netflix…"
FOR THE RECORD




[ad_3]