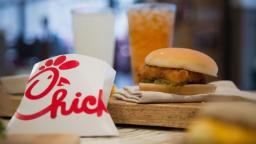 One of these, in Calera, Alabama, has also stopped
curbside delivery
and is limiting its catering ordering. Another, in Madison, Alabama, said it would stop curbside and mobile carryout.
The restaurants represent just a fraction of
Chick-fil-A's restaurants
in North America. There are over 2,600 Chick-fil-A locations in the United States and Canada, most of which are owned by franchise operators.
In April, May and June the rate of quits per share of employment in the accommodation and food services sector, which includes restaurants, held steady at 5.7%, according to seasonally adjusted data released by the Bureau of Labor Statistics. That's far higher than the quit rate across all sectors, which was 2.7% in June. Experts say that when restaurants are short-staffed, it
can be even trickier to hire
because of the stress placed on remaining employees, among other things.
A Chick-fil-A spokesperson told CNN Business that Chick-fil-A restaurants are independently owned and operated, and that the operators make the call on whether to reduce operations. The spokesperson added that customers should check Chick-fil-A's website or app to see what their local location offers.


[ad_3]