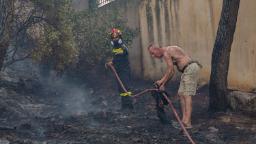 Wildfire approaches the seaside village of Limni, on the Greek island of Evia, on August 6.
People are evacuated on a ferry as a wildfire burns in Limni.
A resident helps a firefighter before fire spreads to houses in the Thrakomacedones area of Athens, Greece on August 7.
A firefighting helicopter takes water from a lake near Cine, Turkey.
A house in Pefkofito, Greece, is destroyed after the forest fire.
Firefighters try to extinguish a wildfire near the town of Olympia, Greece on August 5.
Residents react during a wildfire near Olympia on August 5.
The grounds of a burnt hotel are seen in Lalas village, near Olympia, on August 5.
People move belongings to safety as a forest fire rages in a wooded area north of Athens, Greece, on August 5.
A wildfire approaches the Olympic Academy, foreground, in Olympia, Greece, on Wednesday, August 4.
The remnants of a destroyed house are seen here in the Varibobi area, northern Athens, on August 4.
Onlookers view the smoke from the wildfires blanketing Athens' Acropolis on August 4.
A charred area of Mugla, Turkey, after a forest fire on Tuesday, August 3.
Smoke and flames rise over the village of Limni on the Greek island of Evia, on August .
Firefighters work as a house burns in the Adames area of northern Athens on August 3.
A woman pours water over a baby's head at a fountain in Skopje, Republic of North Macedonia, as temperatures reached over 40 degrees Celsius (104 degrees Fahrenheit) on Monday, August 2.
A man leads sheep away from an advancing fire on August 2, in Mugla, Turkey.
People watch an advancing fire that rages around Cokertme village, near Bodrum, Turkey, on August 2.
Local residents watch as a Greek army Chinook helicopter collects water to tackle a wildfire near the village of Lambiri, Greece, on Sunday, August 1.
A handout photo from the Italian National Fire Brigade shows an aerial view of a fire in the Pineta Dannunziana reserve in Pescara, Italy, on August 1.
A man surveys a fire at Le Capannine beach in the Sicilian town of Catania, Italy, on Friday, July 30.
Firefighters battle a massive wildfire that engulfed a Mediterranean resort region on Turkey's southern coast near the town of Manavgat, on Thursday, July 29.
A firefighter talks to his colleague as they work to put out fires in Cuglieri, on the Italian island of Sardinia, on Monday, July 26.
A firefighting helicopter passes in front of a cloud of smoke from a forest fire near Spathovouni village, southwest of Athens, Greece, on Friday, July 23.


[ad_3]