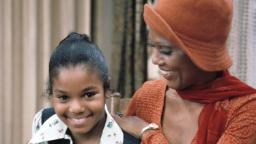 In addition to her popular role as the spirited neighbor Willona Woods on the hit 1970s sitcom "Good Times," DuBois was known for her work on "The Jeffersons" — another iconic, Norman Lear-developed series from roughly the same time — for which she co-wrote and performed "Movin' On Up," the show's theme song that became an anthem for many Black viewers.
The series charts the adventures of George (Sherman Hemsley) and Louise (Isabel Sanford) Jefferson, a Black couple in New York City, as they relocate from a working-class area of Queens to majestic Manhattan, thanks to George's flourishing dry-cleaning business.
DuBois' buoyant tune reflects this sense of Black success.
"Well, we're movin' on up / To the East Side / To a deluxe apartment in the sky," she sings, backed by the baptismal vocals of a gospel choir. "Movin' on up / To the East Side / We finally got a piece of the pie."
But what makes the track stand out is its triumphant attitude — we finally got a piece of the pie.
"Democrats aren't going to win if we have a nominee who has a history of hiding his tax returns, of harassing women, and of supporting racist policies like redlining and 'stop and frisk,'" Sen. Elizabeth Warren of Massachusetts said at the time.
The power of "Movin' On Up" can't be diminished that easily, however. DuBois is gone, but in important ways, the radical optimism so associated with the actress remains — thanks to a theme song that turned out to be much, much more.




[ad_3]