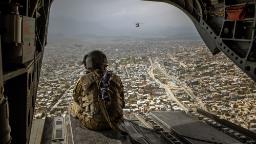 Colorado Democratic Rep. Jason Crow, a former Army Ranger who served in Afghanistan, said that "clearly this is not going well" as the Taliban takes over half of the country's provincial capitals.  
"There is a disaster unfolding on ground here that we have to make sure that we're getting our arms around," he told CNN's Dana Bash.
 Crow outlined three things he thinks need to happen in Afghanistan:
"The near-term mission over the next couple of days is to protect Americans and US citizens and to evacuate those that need to be evacuated as quickly as possible. The second mission is to evacuate Afghans and partners, and I'm calling on (the) Biden administration to conduct a speedy and robust and broad evacuation of our allies and our partners and democracy workers and others who are at great risk over the next couple of weeks. And then the third, longer-term mission is making sure that we don't see the reconstitution of ISIS and Al Qaeda in Afghanistan," he said. 
Crow said that while special operations are fighting against the Taliban, "it is true overall that the rank-and-file is not holding in Afghanistan."
He said there is a difference between arming, equipping, training and giving resources to an army and that actual army's will to fight. He also brought up the issue of identity. "Afghanistan is a largely tribal country; it always has been so," he said. 
President Biden last month said that it's "highly unlikely" that the Taliban would take over the whole country. 
"It is definitely not going well. And there are very tough questions that I'm going to ask and that others are going to ask about how we misread the signals and the intelligence here," Crow said. 
But he reiterated that the immediate focus should be on protecting US citizens and allies in Afghanistan. 
Crow also said that his fellow veterans should be proud of themselves as the 20th anniversary of the Sept. 11, 2001, attacks approaches. 
"You stood up and when your country needed you. You answered the call. Be proud of your service and what you did for our country. And we'll have the policy debates later," he said.
Watch:


[ad_3]