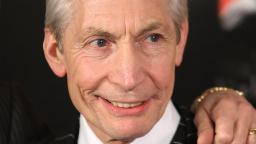 On April 16, 1964, the Rolling Stones released their first album in Britain, simply titled "The Rolling Stones." (It was released in America six weeks later.) That album would be the first of more than 25 studio releases, several live recordings, and a number of compilations. Mick Jagger has been fronting the Rolling Stones since the band formed in London in 1962. "I'll never tour when I'm 50," he said when he was 29. But when the band wrapped up its 50th anniversary tour, Jagger had just turned 70.
From left, Charlie Watts, Keith Richards, Mick Jagger, Bill Wyman and Brian Jones carry their bags past London's Donmar Rehearsal Theatre in 1963.
The Rolling Stones receive bouquets from fans in New York during their first US tour in June 1964.
The band gets ready to perform on the American musical variety show "Shindig" in 1965.
The Rolling Stones leave London on a flight to New York on June 23, 1966. It was before the start of their fifth North American tour.
Paul McCartney of the Beatles, left, sits across from Jagger on a train at London's Euston Station in 1967.
Jagger sits in a London recording studio during the filming of director Jean-Luc Godard's "Sympathy For the Devil" in 1968.
Jagger performs with the Rolling Stones in central London's Hyde Park in 1969. His then-girlfriend Marianne Faithfull watches from behind the photographers.
Rolling Stones guitarist Keith Richards holds his son Marlon alongside Anita Pallenberg, the mother of his first three children, and Jagger in 1970.
Jagger and his new bride, Bianca Perez Morena de Macias, make their way through the crowds on their wedding day in St. Tropez, France, in 1971.
Jagger returns to his seat during a cricket match between England and Australia in 1972.
Daily Express entertainment writer David Wigg interviews Jagger in 1973.
The Rolling Stones record a music video for the song "It's Only Rock 'n' Roll (But I Like It)" in 1974. The video, filmed in London, was directed by Michael Lindsay-Hogg.
Jagger takes a break during rehearsals for a show in 1975.
Jagger empties a bucket of water on stage at the 1976 Knebworth Festival in Hertfordshire, England.
Jagger and his wife, Bianca, spend an evening at Chez Castel in Paris in 1977.
The Stones film a music video for the song "Respectable" in 1978.
Jagger arrives at a London court in 1979 to go over his divorce settlement with Bianca. They were married for nine years.
Jagger performs in 1980 at the Fox Theatre in Atlanta.
Jagger returns to his New York apartment after attending a Jimmy Cliff show in 1981.
Jagger looks out at the crowd during a 1982 concert at Wembley Stadium in London.
Jagger and then-girlfriend Jerry Hall attend an opening at the Mizuno Gallery in Los Angeles in 1983. Jagger and Hall were married for nine years starting in 1990.
Jagger has makeup applied backstage in 1984.
Jagger performs at Live Aid in Philadelphia on July 13, 1985.
From left, Paul McCartney, Jagger and David Bowie take the stage together at London's Wembley Arena in 1986.
Jagger and Jerry Hall spend a day at a beach in Barbados in 1987.
Jagger and Bruce Springsteen share a microphone during the Beatles' induction into the Rock and Roll Hall of Fame in 1988.
Jagger and Keith Richards take the stage in 1989, when the Rolling Stones were inducted into the Rock and Roll Hall of Fame.
Jagger performs in the Netherlands during the Urban Jungle Tour in 1990.
Jagger poses for a portrait in France in 1991.
Jagger and Jerry Hall leave the Shaftesbury Theatre in London in 1992.
Jagger plays Keith Richards, right, on a "Saturday Night Live" episode in 1993. Mike Myers, center, was playing the part of Jagger.
The Rolling Stones perform at the 1994 MTV Video Music Awards.
Jagger takes the stage in 1995.
Jagger parties with Slash, the Guns N' Roses guitarist, at a club in London in 1996.
Jagger has his picture taken on a subway in New York in 1997.
Jagger attends the final match of the 1998 World Cup.
Jagger and Keith Richards perform on stage in London during their Bridges to Babylon Tour in 1999.
Jagger and Jerry Hall leave The Ivy Restaurant in London after Hall's debut in the stage production of "The Graduate" in 2000.
Jimmy Fallon acts like Jagger's reflection during a "Saturday Night Live" skit in 2001.
From left, Charlie Watts, Jagger, Ron Wood and Keith Richards pose in front of a Rolling Stones blimp after arriving in New York in 2002.
Jagger addresses the crowd during a show in Munich, Germany, in 2003.
Rolling Stone magazine founder Jann Wenner, left, is presented an award by Jagger and Ahmet Ertegun during the 2004 Rock and Roll Hall of Fame induction ceremony.
From left, Jagger, David A. Stewart and Variety editor-in-chief Peter Bart attend a Golden Globes after-party in 2005. Jagger and Stewart, best known for his work with the Eurythmics, formed a supergroup called Super Heavy with Joss Stone, Damian Marley and A.R. Rahman.
The Rolling Stones perform the Super Bowl halftime show in 2006.
Jagger and Keith Richards perform in Frankfurt, Germany, in 2007.
From left, Charlie Watts, Jagger, director Martin Scorsese, Keith Richards and Ronnie Wood attend the opening ceremony of the Berlin International Film Festival in 2008.
Jagger and Bono of U2 perform together during a concert at New York's Madison Square Garden in 2009. It was marking the 25th anniversary of the Rock and Roll Hall of Fame.
Jagger leaves his hotel in France during the 2010 Cannes Film Festival.
The Rolling Stones perform during the 2011 Grammy Awards.
Jagger watches the 2012 Olympic Games in London with his girlfriend, American fashion designer L'Wren Scott. Scott died in 2014.
Jagger takes center stage at the Glastonbury Festival in England on June 29, 2013. It was the Rolling Stones' first appearance at the event. Showing no signs of slowing down, Jagger thanked fans for following the band through the years.


[ad_3]