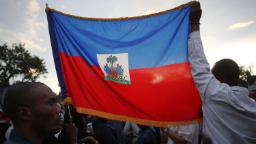 These tragedy-soaked portraits seem to be the only narratives about Haiti to which people beyond its borders are willing to pay attention.
As a Haitian-American, I have witnessed the tragic consequences of US foreign policy toward Haiti. My mother came to America both in search of new opportunities and to flee an autocratic regime — led by
Francois Duvalier
, aka "Papa Doc" — robustly backed by the United States. It would be more than a quarter of a century before my mother felt safe enough to return home.
Haitian history and culture suffused my childhood and my predominantly Black American elementary school friends learned to enjoy the luxuries of eating Caribbean food. At home, Haitian kreyol mixed interchangeably with English, but the island's revolutionary history and how the joy and pain embedded in wistful stories of the past remained ever present. Being Haitian in America suffuses one with a poetic understanding that the past continuously shapes the present.
While Cuban exiles received special immigration status that allowed them to create safe havens in Florida, Haitians have died by the hundreds and thousands trying to flee political instability and poverty with deep roots in American foreign policy. Those who survive the trip have been consistently mistreated. President Donald Trump's
lack of compassion
toward Haiti could be seen in his 2018 decision to end Temporary Protected Status for nearly 60,000 Haitians displaced by the 2010 earthquake.
Billions of dollars in foreign aid have been unable to extinguish the legacy of violence and corruption embodied by Francois Duvalier's "Touton Macoute" or goon squad that carried out his political will. Environmental disaster and internal domestic conflict have further weakened the ability of already-vulnerable institutions to provide clean water, adequate healthcare and safe waste removal for Haitians. The lack of financial transparency for foreign aid received often dovetails into an absence of political accountability.
More often than not, meanwhile, America's interest in Haiti stops at the shores of tragedy, environmental disaster and domestic turmoil. That's particularly galling to see in a nation that, up until recently, was largely unwilling to confront the legacy of racial slavery (and where many remain resistant to doing so). But it's then no surprise that the US has resisted trying to understand its own role in the problems that currently beset Haiti.
A more authentic, historically rooted and politically empathetic narrative of Haiti would recognize that they are us and we are them. The past year of domestic racial and political upheaval in America illustrates just how difficult it can be to sustain genuine democracy, something Haitians have attempted, with intermittent success, with only great difficulty and always with at times negative outside (including American and French) interference.
Haiti is neither irreparably broken nor perpetually resilient. The island, like its people, contains multitudes. Until the US and the international community fess up to the historic and continuing influence they play in Haitian affairs, we will continue to interpret this unfolding history in isolation without realizing that it is in fact, a mirror.


[ad_3]