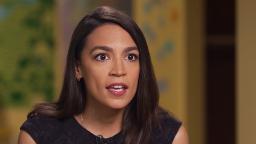 Not because I think she's wrong, but because I think she's being painfully candid. Admitting to the particular fear of sexual violence that women have — recognizing that particularly vulnerability — is entirely outside the norm for female politicians, who often have to go to absurd lengths to prove that they're tough enough for the job. And Ocasio-Cortez told her story at a moment when members of the American political establishment seem to want to move on and put January 6 in the rearview mirror. She's insisting that we refuse to look away from the reality of that day and saying that if we want that attempted coup to be a lesson and not a test-run, we need to understand it, agree on the facts about it, and level appropriate consequences for it.
Fear of being raped influences women's lives. We learn a variety of defensive tricks; we curtail our behavior; we forgo adventure and pleasure in the name of safety. The tips women and girls hear are many and often contradictory: Don't take the subway late at night and always have cab fare, but it's also dangerous to be in a taxi alone and
many ride-share drivers have assaulted their passengers
. Don't wear your hair in a ponytail when you go running, because a rapist can easily grab it. Have your keys ready, pointy ends between your knuckles, when you walk into a parking garage or down a dark road. Always check your back seat. Don't drink too much. Don't be alone with strange men, but also don't be alone.
Her fears of sexual assault were not pulled out of thin air. Female politicians don't just face the typical attacks leveled at prominent people — saying that they're jerks or idiots, that they're in someone's pocket or only in it for the glory. They also face sexualized threats, and, too often,
acts of sexual violence
. Prominent men certainly hear, "I'll kill you," from random angry people (and thanks to the internet, they can hear from many more anonymous angry people than ever before). But prominent women are likely to hear, "I'll rape you and then I'll kill you." It's not just about wanting you to cease existing; it's about a desire to dominate, sexually degrade and hurt you.
And so of course Ocasio-Cortez, a sexual assault survivor and the subject of sexist smear campaigns, understood that she faced a real risk of sexual violence from people who had already shown themselves willing to cast the rule of law aside.
Her decision to speak out about it is remarkable, and in doing so she is returning our attention to the many crimes and attempted crimes of January 6.
Ocasio-Cortez insists on laying out what was actually at stake that day: Everything from her own physical safety to our country's stability. She does so at a significant personal cost. We owe it to ourselves to listen, to remember and to act.


[ad_3]