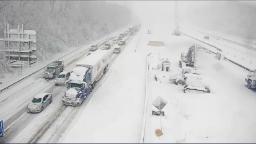 The Virginia Department of Transportation anticipates Interstate 95 will be cleared of vehicles at some time today, before tomorrow's rush hour, according to Marcie Parker, district engineer for the Virginia Department of Transportation Fredericksburg District.
Parker is leading VDOT's efforts to clear the interstate, she said during a telephone media briefing. 
Around 4 a.m. ET Tuesday morning, it became clear to officials that the only way they would be able to remove stuck vehicles would be to shut down the interstate, Parker said. There was up to four inches of ice under some vehicles, she added.
"While we were able to clear many different accidents and trucks and move a little bit of traffic, we know that there were still an enormous amount of vehicles that were stuck for many, many hours, which we find completely unacceptable for those folks," Parker said.
Parker said they did not consider closing I-95 prior to the storm. VDOT was prepared, but the snow was more than they anticipated and fell at a harder rate than expected, she said. When more than an inch an hour falls, it's difficult to move their trucks around fast enough, she said. 
VDOT mobilized on Sunday to bring in and outfit equipment, with workers coming on duty at midnight working 12-hour shifts, Parker said.
Virginia agencies have moved a "nice amount of traffic" off I-95 Tuesday and say the process is going quicker than anticipated, she said. 
Roads were not pre-treated because the weather started with rain and it would have just washed the treatment away, Parker added.
After the roads are cleared, Parker said they will look at what happened and make adjustments to future plans.
Corinne Geller, the public relations director for the Virginia State Police, said her agency started planning in anticipation of the winter storm by extending trooper shifts immediately.
VSP first got calls about a jackknifed tractor-trailer around 8:20 a.m. ET on Monday, which caused a chain reaction of vehicles backing up on I-95, Geller said. 
There have been no reported crashes, just vehicles stuck or disabled, and no traffic deaths or injuries, Geller added.  


[ad_3]