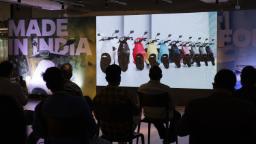 Ola Electric's "FutureFactory," in Tamil Nadu
,
India, will eventually employ 10,000 women, the company's co-founder Bhavish Aggarwal said in
a blog post
Monday. The first group of women started working at the factory this week, and the full facility is set to open at the end of 2022.
The plant will be "the world's largest women-only factory and the only all-women automotive manufacturing facility globally," according to the blog post.
The move is part of a series of efforts by the company to help create a more inclusive workforce and provide economic opportunities for women, Aggarwal said. "For India to be the world's manufacturing hub, we must prioritize upskilling and generating employment for our women workforce," he added, citing a study that showed providing women parity in the labor workforce can grow India's GDP by 27%.
When Ola Electric's factory is fully built and ready to go at the end of next year, it is expected to have the capacity to produce 10 million electric scooters per year.
"Both companies in due course will go public. Ola will obviously go public sooner, it's a more mature business — sometime next year, but we don't have any final, final date to share with everybody," Aggarwal added.


[ad_3]