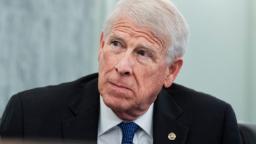 "Senator Wicker tested positive this morning for the COVID-19 virus after immediately seeking a test due to mild symptoms," Wicker spokesman Phillip Waller said in the statement. "Senator Wicker is fully vaccinated against COVID-19, is in good health, and is being treated by his Tupelo-based physician. He is isolating, and everyone with whom Senator Wicker has come in close contact recently has been notified."
The Senate is not in session this week due to August recess. The chamber is scheduled to return next month.
Breakthrough cases remain very rare. The US Centers for Disease Control and Prevention has reported just 8,000 breakthrough cases resulting in severe disease or death out of 166 million Americans fully vaccinated.


[ad_3]