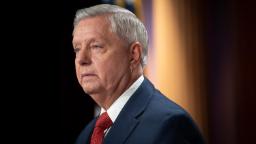 "I was just informed by the House physician I have tested positive for #COVID19 even after being vaccinated. I started having flu-like symptoms Saturday night and went to the doctor this morning,"
he tweeted.
Graham wrote in a follow-up tweet
, "I feel like I have a sinus infection and at present time I have mild symptoms. I will be quarantining for ten days. I am very glad I was vaccinated because without vaccination I am certain I would not feel as well as I do now. My symptoms would be far worse."
The announcement from Graham comes amid the spread of the Delta variant of Covid-19, which has prompted the recommendation of new safety guidelines.
The CDC recently changed its masking recommendations as it grows more concerned over the Delta variant, urging vaccinated people in certain areas of the country to resume wearing masks indoors in public areas.




[ad_3]