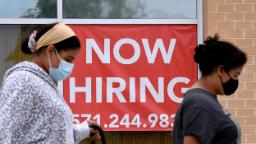 That nightmare scenario was avoided, in large part because of an unprecedented response from the federal government that included stimulus checks, small business loans and emergency credit programs. Later, the historically fast rollout of safe and effective vaccines paved the way for a rapid recovery.
The US economy is recovering from Covid faster than many imagined possible. Indeed, the
total size of the US economy
is now slightly larger than it was before Covid.
Yet by many measures, the recovery from Covid is incomplete — especially for Main Street.
In some ways, it's a confusing time to understand precisely what is going on in the economy. There are so many moving pieces clouding the view of the recovery.
For instance, the impact on the jobs market from the reopening of schools and daycares and expiration of enhanced unemployment benefits is only beginning to be felt.
The Delta variant has slowed growth in high-contact industries as it spreads through various regions and then recedes.
The good news is that workers are making more money. But they are also contending with higher costs of living.
Although tech companies and other industries boomed during the pandemic, some parts of the economy remain hobbled.
The recovery has been more obvious on Wall Street, where stocks rapidly recovered from the bear market — and kept booming.
Per-share profits among S&P 500 companies is solidly above pre-crisis levels.


[ad_3]