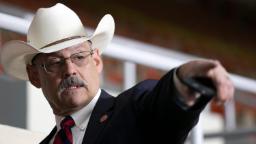 Trump's
Monday endorsement
of state Rep. Mark Finchem for Arizona secretary of state is the latest in a series of announcements that has alarmed independent elections experts. Trump has now backed Republicans who supported his lies about the 2020 election for the job of top elections official in three crucial battlegrounds —
Arizona
,
Michigan
and
Georgia
— where the current elections chiefs opposed his efforts to reverse his 2020 defeat.
If people who have sought to undermine the 2020 election
are running things in 2024, when Trump
might be a candidate again
, experts and many Democrats fear that attempts to subvert the will of the voters stand a much greater chance of success.
"It is incredibly dangerous to support people for office who do not accept the legitimacy of the 2020 election. It suggests that they might be willing to bend or break the rules when it comes to running elections and counting votes in the future," said
Rick Hasen
, a professor of law and political science and co-director of the Fair Elections and Free Speech Center at the University of California, Irvine. "Someone who claims falsely that the 2020 election was stolen from Trump lacks credibility and cannot be trusted to run a fair election."
Races around the country
Griswold said that, if "anti-democracy" candidates are elected, "you could imagine a secretary of state refusing to certify election results," spreading lies to influence the agenda of state legislators, even posing an "insider threat" to election security. For the country to function, Griswold said, it is essential to have state elections chiefs who "believe in democracy and believe in facts."
Three Trump endorsements
Karamo's campaign and Hice's campaign did not respond to requests for comment.
Arizona rivals
Secretary of state races usually get much less attention than other races on midterm ballots. But Griswold, the Colorado secretary, said the events surrounding the 2020 election have increased the profile of the office, not only among voters but donors. She said the Democratic secretary of state PAC she chairs is having its "best fundraising cycle ever."




[ad_3]