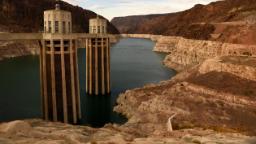 Water-level lines, unveiled by years of drought, are seen on the rocks of the Elephant Butte Reservoir in Truth or Consequences, New Mexico, on July 9.
Cattle graze as the Tamarack Fire burns near the California-Nevada border on July 17.
These peaks of the Sierra Nevada mountain range, near Lone Pine, California, often have snow packs that last throughout the summer months. But there were none on July 18.
Cattle graze as the Tamarack Fire burns in Markleeville, California, on July 17.
Dead carp fish rot in the remaining water of a drying Little Washoe Lake in Nevada.
The Bootleg Fire illuminates smoke at night near Bly, Oregon.
A plane drops fire retardant on Harlow Ridge above the Lick Creek Fire, southwest of Asotin, Washington, on July 12. The fire started the week before and has burned more than 50,000 acres of land between Asotin County and Garfield County.
In this GeoColor image from July 12, smoke from numerous wildfires could be seen as gray-brown, in stark contrast to the white cloud cover over other parts of the continent.
Annette Garcia, director of the Coachella Valley Horse Rescue, straps ice packs onto a horse's legs to help keep him cool amid a water shortage in Indio, California.
Golden Davis cools off in a mister along the Las Vegas Strip on July 9. The city tied its all-time temperature record of 117 degrees Fahrenheit over the weekend.
Smoke envelops trees as the Sugar Fire, part of the Beckwourth Complex Fire, burns in Doyle, California, on July 9.
Volunteers hand out water and ice at a homeless-services facility in Sacramento, California, on July 8.
A utility crew works on power lines in front of a hillside that was burned by the Salt Fire in California's Shasta County.
As the Salt Fire burns nearby, a section of the drought-stricken Shasta Lake sits mostly dry in Lakehead, California, on July 2. Firefighters were battling nearly a dozen wildfires in the region.
The exposed lake bed of the San Gabriel Reservoir is seen near Azusa, California, on June 29.
A sign is posted about watering limits in Azusa, California, on June 29.
This aerial photo shows the San Gabriel River and the exposed lake bed of the San Gabriel Reservoir near Azusa on June 29.
Carlos Torres drinks water on Saturday as he looks for paperwork in his destroyed mobile home in Kelseyville, California. A wind-whipped brush fire burned three mobile homes, two separate garages and vehicles, a single-family dwelling and outbuildings.
Kayakers navigate the waters of Lake Powell in Page, Arizona, on June 24.
John Elizondo, 11, dumps a bucket of water over himself while playing in the Snake River at the edge of Asotin, Washington, on June 24.
Park visitors in Big Water, Utah, walk on an area of Lake Powell that used to be underwater at Lone Rock Beach.
James Oehlerking spreads ice over a tub of bottled beer at Coors Field, the home of Major League Baseball's Colorado Rockies, on June 17. Temperatures were in the triple digits for a third straight day in Denver.
A sign says "stop in and cool off" on a building at Lake Mead in Boulder City, Nevada, on June 16. The lake is at its lowest water level on record since the reservoir was filled in the 1930s.
Gerry Huddleston cools off in the shallow water of the Russian River in Healdsburg, California, on June 16.
A wildfire burns on a canyon wall south of St. Xavier, Montana, on June 15. Record-high temperatures and gusting winds stoked a rapid expansion of major fires across central and eastern Montana.
Ranchers Jim Jensen, center, and Bill Jensen inspect a trench they are working on to try to get more water to their ranch in Tomales, California, on June 8. As the drought continues in California, many ranchers and farmers are beginning to see their wells and ponds dry up. They are having to make modifications to their existing water resources or have water trucked in for their livestock.
Cattle walk up to a water trough in Tomales, California, on June 8.
This aerial photo shows houseboats anchored at the Bidwell Canyon Marina in Oroville, California, on June 1. As water levels continued to fall at Lake Oroville, officials were flagging houseboats for removal so they could avoid being stuck or damaged.
California's Tule Lake National Wildlife Refuge, near the Oregon border, is seen on May 28. The area has been severely affected by drought and the lack of irrigation waters from Upper Klamath Lake, which usually feeds into the refuge.
This aerial photo shows rows of almond trees sitting on the ground during an orchard removal project in Snelling, California, on May 27. Because of a shortage of water in the Central Valley, some farmers are having to remove crops that require excessive watering.
A firefighter inspects equipment on a Type 3 engine designed for wild land firefighting at a station in Oroville, California, on May 26.
A launch ramp, extended to accommodate low water levels, stretches into California's Lake Oroville on May 22. At the time of this photo, the reservoir was at 39% of capacity and 46% of its historical average.
Firefighters battle a brushfire in Santa Barbara, California, on May 21.
Clinton Jackson prepares to fill water tanks with recycled water in Oakley, California, on May 20. The Ironhouse Sanitation District opened its residential recycled water fill station earlier than usual to make recycled water available for free to Oakley and Bethel Island residents.


[ad_3]