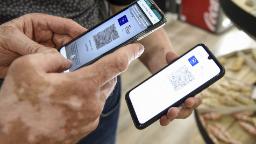 Last week the Republican National Committee
falsely claimed
the Surgeon General recommended people wear masks while at home with their kids.
Now, Rep. Chip Roy from Texas is claiming that President Joe Biden is working to institute a vaccine passport across the country.
During his
speech
Thursday at the right-wing Young America's Foundation conference in Houston, Roy said "President Biden and his administration and Democrats are trying to institute a vaccine passport."
"But the good news is," Roy added, "if they do so while you're here — since each and every one of you are freedom loversb– you'll get stuck in Texas. You get to stay here instead of having to use a vaccine passport."
"I don't think they need to do that," Biden said. "I think they just need to give the authority of those restaurants or businesses to say, 'In order to come in, you have to give proof that you've been vaccinated or you can't come in.'"
During the presser Biden was also asked if he thought more cities should adopt NYC's rules for gyms and restaurants to which he answered "I do."
A spokesperson for Roy's office told CNN "(t)he Biden White House has been talking about vaccine passports for months. Congressman Roy was simply discussing what was already obvious from public reporting."
But Roy's comments implied that Biden was working on a way to limit someone's ability to freely move around the US and CNN has seen no evidence to back up that assertion.
Vaccine passports and verification systems continue to be discussed as more companies require employees to get vaccinated, but there is no federally mandated vaccine passport plan that the White House and Congress are currently working to implement.


[ad_3]