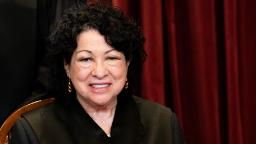 Sotomayor made the remark during a Friday
hearing
about the legality of the Biden administration's attempt to require large employers to force workers to be vaccinated for the virus or undergo weekly testing.
Here is a fact check of Sotomayor's claim and claims made at the hearing by two other justices.
Sotomayor, a liberal,
tried
during the Friday hearing to emphasize the danger posed by the omicron variant of the virus. She said, "We have over 100,000 children, which we've never had before, in serious condition, and many on ventilators."
The Supreme Court communications office did not respond to CNN requests for comment from Sotomayor.
A Breyer comment about Covid-19 cases
Justice Stephen Breyer, another liberal, said at one point in the hearing that there had been "750 million new cases yesterday or close to that."
Facts First: Breyer was way off. This comment, however, was clearly a slip of the tongue. Breyer accurately said at other moments in the hearing that there were "close to 750,000" or "three-quarters of a million" new cases of Covid-19 the day prior, not 750 "million." The US had more than 786,000 reported new cases the day prior, according to data from Johns Hopkins University.
A Gorsuch claim about flu deaths
Justice Neil Gorsuch, a conservative, noted at the hearing that the federal government does not use the Occupational Safety and Health Administration to require that workers take a flu vaccine, as the Biden administration is trying to do with Covid-19 vaccines (though, again, the administration is also offering the alternative of being tested weekly). And then Gorsuch made a comment about flu deaths that was heard differently by different listeners.


[ad_3]