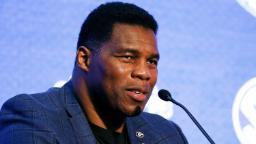 Walker is
not the only candidate
for the Republican Senate nomination in Georgia to question the legitimacy of the 2020 results. But Walker has been particularly prolific and specific in his election-related dishonesty — and he has by far the biggest megaphone. Walker has uttered false conspiracy theories on both Fox News and on Twitter, where he has more than 445,000 followers.
And his dishonesty has not been limited to the subject of the election. Walker has also promoted false conspiracy theories about the January 6 insurrection at the US Capitol and about Democrats.
Walker's campaign did not respond to requests for comment for this article.
Conspiracy theories about the 2020 election
A false claim about Biden votes
False claims of mass fraud
A baseless call for a re-vote
"Instead of us fighting and going to court, why don't we have Nevada, Arizona, Georgia, North Carolina, Pennsylvania, Michigan, and Wisconsin vote again? We can have it done within a week, and maintain our democracy," he wrote.
A conspiracy theory about altered votes
On November 8, Walker tweeted, "Anyone using HAMMER SCORECARD to alter voting in our America election should be prosecuted."
The Dominion conspiracy theory and Sidney Powell
A false claim about Georgia ballots
Walker was wrong; nothing had been "exposed" here.
First: Unlike absentee ballots themselves, Georgia ballot applications can be printed out by anybody, not just election officials, and mailed to anyone else. This application was mailed by an independent group, not by Raffensperger.
Other conspiracy theories
A conspiracy theory about why the Capitol riot happened
"Have you noticed were not talking about election fraud and election integrity now? Seems like this was well planned to shut everything down and run the clock out," Walker wrote.
Nonsense. The riot was perpetrated by Trump supporters, not by people looking to silence Trump supporters. The Department of Justice has charged more than 575 people so far.
A conspiracy theory about participants in the riot
A conspiracy theory about Black Lives Matter and Democrats




[ad_3]