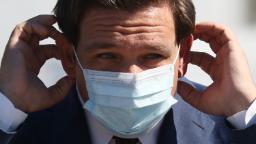 With the virus raging in the Sunshine State, now might be a good time for the leader of that state to step up and, um, lead by example, right?
Well, that's not the approach that Florida Gov. Ron DeSantis has taken. Exactly the opposite in fact.
DeSantis has been extremely cagey when asked direct questions about his vaccination status.
It started in the spring of 2021 when governors across the county (and across party lines) were touting getting the vaccine as a way to encourage their constituents to follow suit.
DeSantis, again, is being very squirrelly about the booster.
In mid-December, during an interview on Fox News Channel, DeSantis was asked directly whether he had received the booster. To which he responded thusly: "So, I've done, whatever I did. The normal shot. And that at the end of the day is peoples' individual decisions about what they want to do."
Oooooooooookay. That really clarifies things!
Which, like, I guess? DeSantis isn't required to tell anyone of his vaccine status. But, as a political leader in a state where Covid cases are surging and where the greatest threat is to those who are a) entirely unvaccinated or b) have not received a booster shot, it would seem like the most prominent politician in the state would want to tout the aid that the shots can give.
Right? Right.
"As case counts spiked over the holidays, DeSantis offered no public statements or guidance on combating the disease. He did not explain on Monday his public absence over the holidays. He attended the Orange Bowl college football playoff game at Hard Rock Stadium on New Year's Eve, followed by a worship service at Miami Baptist Church, according to his published schedule."
Why is DeSantis taking this mostly-silent approach to Covid-19 even as it tears through his state? Well, and stop me if you've heard this one before, it's politics.
DeSantis is no dummy. He saw the reaction to Trump's public proclamations in favor of the vaccine and the booster. And he knows that for someone like him, who is still building good will and relationships with Trump voters, touting vaccines or boosters is a political loser.
And so, he fiddles while Covid-19 burns through his state.


[ad_3]