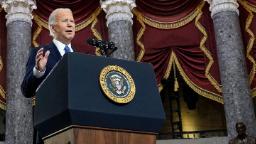 But there is a very real question about who exactly is waking up.
Much of the concrete action concerning American democracy has been driven by people who reject or question the 2020 presidential election results.
Hopes for a new national election standard are dim. While Republicans are rewriting state laws to make it harder to vote, Democrats are having no luck with countermeasures.
Democrats want to give states a new rulebook and rewrite a baseline of rights for voters. But they lack a Senate supermajority, and their plan to change Senate rules to pass their voting rights bill with a simple majority can't get past two of their moderates, Sens. Kyrsten Sinema of Arizona and Joe Manchin of West Virginia.
Criminal accountability is going to take time. Attorney General Merrick Garland answered critics of the Department of Justice's handling of prosecutions regarding the insurrection — which so far has focused on participants rather than instigators — during remarks Wednesday in Washington.
He said more than 725 people have been charged in connection with the riot, and more than 325 of those were charged with felonies. But he suggested there are more prosecutions to come.
There's a separate body of evidence about Trump's efforts leading up to January 6 to overturn election results. But that investigation will last only as long as Democrats control the House, and most Republicans have already dismissed it as partisan.
There is an existential question on the horizon. No matter who wins GOP primaries, Republicans expect to take control of the House and maybe the Senate after the 2022 election. What does that mean for democracy if the party that has downplayed the January 6 attack and tried to move past it gains an important new foothold in the next Congress?
Republicans could win based on how voters view the country's economic outlook and on the pandemic fatigue of parents who want their kids in school, as happened in Virginia this year. But the results in 2022 might also give momentum to Trump, who wants to run again in 2024.


[ad_3]