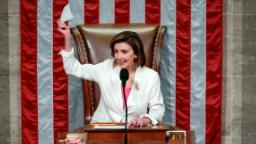 Retirements from within your ranks are coming hot and heavy — Michigan Rep. Brenda Lawrence this week became the 25th Democrat to
announce her retirement
 — and your President is mired in the
low 40s
 in terms of job approval.
In fact, doomsday predictions in some Democratic circles that the decennial redistricting process would be a bloodbath for their side have not, in fact, been borne out.
"The surprising good news for Democrats: on the current trajectory, there will be a few
more
Biden-won districts after redistricting than there are now — producing a congressional map slightly less biased in the GOP's favor than the last decade's,"
wrote David Wasserman
, the House editor at the
Cook Political Report with Amy Walter
, this week.
With 34 states either done with redistricting or in the final stage, Wasserman calculates that President Joe Biden would have carried 161 of the 293 new districts created for the next decade in the 2020 election. That compares favorably with the 157 of 292 districts under the old maps that Biden carried.
Which is at least mildly surprising, given that Republicans had complete control of the line-drawing process in 187 seats compared with just 75 for Democrats.
Before Democrats get too excited, however, Wasserman rightly notes that many of the new districts Biden carried he had won very narrowly — and the lion's share of them are being targeted by Republicans this November.
Wasserman
rates
35 Democratic seats as potentially competitive this fall as compared with just 18 for Republicans — a signal that Democrats have far more vulnerability among the districts finished so far.
Again, Wasserman:
"House Democrats' math problem boils down to this: even though there will be more Biden-won seats than there are now, dozens will have only voted for him by narrow margins and will be very tenuous for Democrats if Biden's approval rating is still languishing below 45 percent."
So this good news is something short of a clear victory for Democrats. Especially when you consider that they hold just a 221-213 seat edge (with one vacancy in a heavily Democratic Florida district) in the House at the moment and that history suggests that the first midterm election for a president's party is usually defined by
broad losses
in the lower chamber.
The Point: Democrats are hard up for positive news in advance of the 2022 midterms. At least as it looks right now, redistricting is one of a very few good stories for them.


[ad_3]