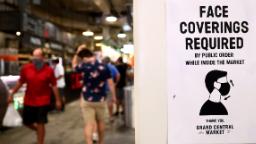 Monday was a day full of pandemic dissonance. Tuesday probably will be, too.
On the same day we learned about a major step forward for public health — Pfizer saying that its Covid-19 vaccine is safe for kids — we also heard about a horrible mile marker of death. "Despite all the scientific and medical advances of the past 103 years," CNN's Holly Yan wrote, this pandemic "has now killed more Americans than the 1918 flu pandemic did."
Other news outlets published similar stories when the Johns Hopkins dashboard surpassed the 675,000-dead mark. Some sites illustrated the news with
historical photos from 1918.
When the authorities say the US is averaging roughly 2,000 Covid deaths a day, yet the same sources affirm that fully vaccinated Americans are well protected from severe illness, we wind up in a daily state of pandemic dissonance. It's a peculiar sort of tension that exists when pictures of jam-packed stadiums appear in social media feeds next to accounts of overwhelmed hospitals. I see it on my feed when a breakthrough like the Pfizer news happens: People who have been "back to normal" for months can't believe others are still taking stringent precautions — and visa versa.
This tension is particularly acute when we don't have the proper context or data to evaluate the circumstances we're in. Try this: Look up your own community's Covid data dashboard. Try to find out how many recent hospitalizations and deaths are among vaccinated adults versus unvaxxed. I tried this for my neighborhood and failed.
From time to time, federal and state officials provide snapshots that show the vast majority of the suffering and dying is happening among the unvaxxed, i.e. adults who have chosen not to protect themselves. But the data is not available in a consistent, searchable way. It's piecemeal at best. So we're left assuming, left guessing, left making risk assessments without reliable data, and that leads to even more pandemic dissonance…
Follow the rules or change the rules
I understand all the context for these scenes, but the photos still make me squeamish. This should not just be a "right-wing media" issue. It's an "everybody with common sense" issue. CNN's Brianna Keilar, to her credit, called out an example of hypocrisy on Monday's "New Day." She showed the video of SF mayor London Breed partying, maskless, with a fully vaccinated crowd. "The mayor of a major American city isn't complying with her own health department's health guidance," Keilar said.
Breed, on defense, told reporters "we don't need the fun police" to "micromanage" mask wearing as long as the population is vaccinated. I happen to agree — but that's not the city's position or the CDC's position. These politicians should follow the rules or change the rules. If they don't have the authority, they should pressure those who do. If it's too complicated, they should push to make it simpler. Restrictions, rules and recommendations in this phase of the pandemic shouldn't be one-size-fits-all. They should be customized to specific locales and positivity rates and tolerance levels. But they are not. As the "rules" make less and less sense, and they're not enforced equally or at all, they'll be followed less and less, if at all…
LA County says Emmys didn't violate mask mandate
The right's narratives
Notes and quotes about the vaccine wars
Six rules…
CNN's RTO update
Oliver Darcy writes: "No surprise here. CNN on Monday became the latest company to push its full return-to-office date back to 2022. Network boss Jeff Zucker announced the news to employees in a memo, saying execs had 'come to the conclusion that a full return to the office in October does not feel right.' Zucker, who mentioned the Delta variant's rise in Atlanta where CNN HQ is, said the new target date is January 10. But he encouraged employees to start coming into the office now, something that many staffers have already been doing. 'I think you'll find … it is actually pretty great,' Zucker said, adding, 'The transition does not begin in January. It begins now…'"




[ad_3]